10 swimwear sewing patterns that are on my wishlist
Apr 26, 2021
Imagine with me….
that you had access to all the fabrics and notions you want
that you could buy the perfect bikini or onepiece pattern for you in size and in shape
that your hands and your sewing machine were completely synchronized and you mastered every technique
Sounds great right? But do you think you would still really enjoy sewing your own?
I think the sewing process would be very fast and peaceful, but it would not be very interesting or satisfying.
Oh yes, you dream so much about perfection, and often you feel bad about your results. "That bikini bottom looks very sagged out when I try to shoot it in a flatlay. That bikinitop that I just finished and rushed to try on, is too small to wear, unless I don't breath. The last sideseams on that reversible bikini just don't want to sew up nicely…."
Yes, I'm giving examples from my own experience, but I'm sure you can relate. On one hand you are proud of your make, but on the other hand, you see all the imperfections and wish you could do it different.
I believe that this process is what keeps us going. If it were too easy, there would be no challenge, we wouldn't have anything to be proud of.
I often dream of having all the fabrics to work with, but in the end, I get most satisfaction from working with recycled materials, things that I have in the house, and find a creative solution for. THAT is what gives me SEWING FLOW. Admittedly, it also comes with frustrations, but the problem solving part is what triggers me most in sewing (in the best possible way!).
The same with sewing patterns. You know beforehand that you're not going to get the perfect fit and execution on the first try (when THAT happens, I feel euphoria), but the process towards that result is what motivates you, is what makes you search for other solutions and makes you a better sewer one step at a time.
That's why I love to try out different patterns from different brands. They all have another approach, another grading system and I always learn something new.
And that is why I created the START TO SEW SWIMWEAR course. I want to teach you about the swimwear materials and all the possible techniques but I also want to inspire and challenge you. So you can have fun pattern hacking and coming up with your own problem solutions, your own way of sewing the things and experiencing that sewing flow. I want you to create from your own imagination. And I'm so glad that it also comes across because my students said they were all sooo inspired.
So that being said, here are 10 swimwear sewing patterns that are currently on my wishlist:
We are seeing sleeves on bikini tops everywhere and I love it! Sidenote, I haven't tried it yet, so I'm not sure how practical it is to move in and how comfortable it is in the heat. But I love love love the look of it!
2. Agnes swimsuit from Measure twice cut once
A beautiful swimsuit with a fun flirty boho vibe!
I'm used to a whole lot more coverage, but I'm willing to experiment with some different cuts of bikini bottoms.
4. Tai swimsuit from Bikini Design Club
Sporty and elegant! This would be a great swimsuit for sportive swimming.
5. Grady top from Edgewater Avenue
Love this design!
This is a lingerie pattern, but it's easy to make it into a swimsuit.
This one looks a bit like nr 2 in this list, but the asymetric shoulder is even more to my taste.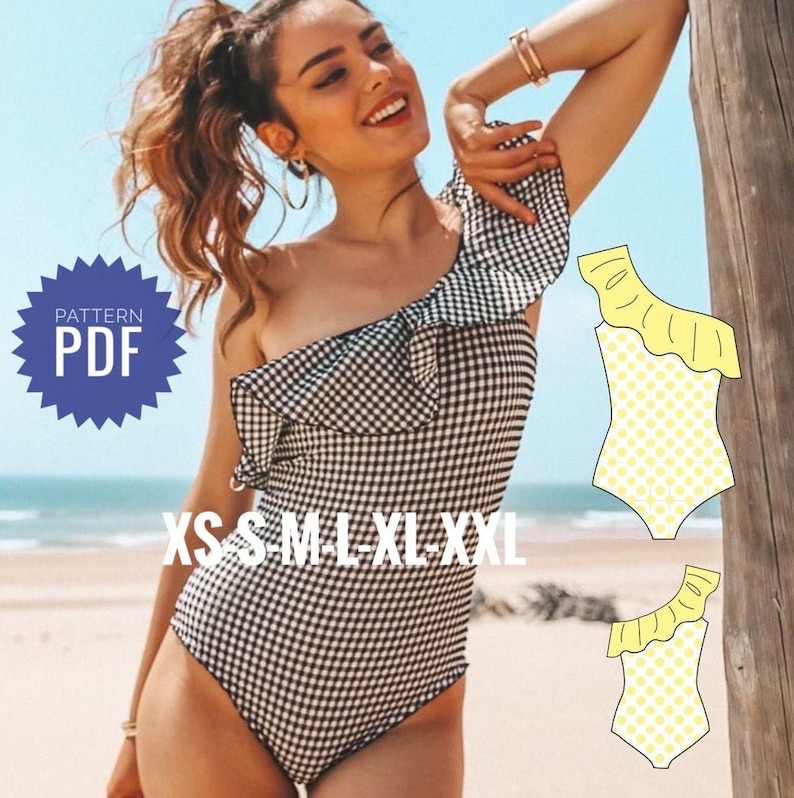 9. Abilene top from Edgewater Avenue
This is a great top if you want a bit of a sleeve, but also full movement and airiness.
Totally in love with the back of this swimsuit!
Which one would YOU love to sew? Or do you know another pattern that would be perfect for me? Let me know!
Also have a look at my Patterns page where I keep a record of the commercial and indie patterns that I used. Maybe you also find your perfect pattern in there.
Love,
Clio
Blijf op de hoogte van nieuws en updates!
Schrijf je in op de mailinglijst om steeds het laatste nieuws, kortingen, acties en inspiratie van Clio's Atelier in jouw mailbox te ontvangen.
Geen zorgen, jouw info wordt niet verder gedeeld.